Soholaunch Website Builder
In addition to RVSiteBuilder Pro, we offer Soholaunch Sitebuilder
Many of our clients prefer to have us build their web site and then they use the site builder program to easily update and maintain their web site whenever they wish.
We strongly recommend that you view each of our Soholaunch training tutorials to understand the how to's of each area of Soho Site Builder. To Login after installation, go to www.Your-Domain.com/sohoadmin/. Enter your username and password and a new window will open.
---
After you view the tutorials, the hints below will help to clarify some questions.
More information is available in the program by clicking the ? at the top right.
Tutorials are in Flash.
See Soho Tutorials
---
Hint
To move a top option into a block to work with it,
click and drag it
into the block.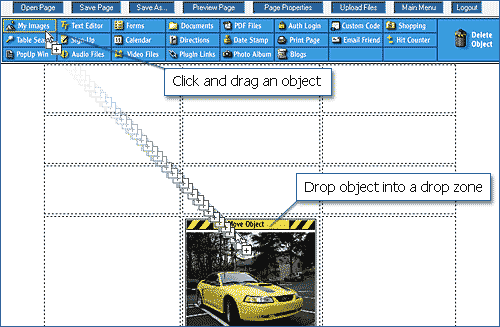 ---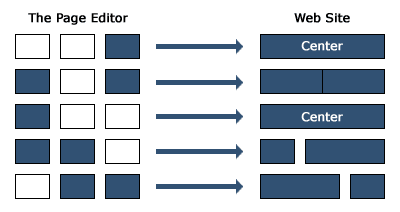 Hint on Formatting
All objects are constrained to fit within the designated "drop zone" inside the Page Editor, but display differently when viewed through your site. When viewed from the web site, objects will expand and contract based on pre-defined layout definitions. Preprogrammed objects can be dragged and dropped into any of the 30 "drop areas" on the page. Multiple objects can be placed in single drop areas and can be moved to different areas if they need to be repositioned on the page.
---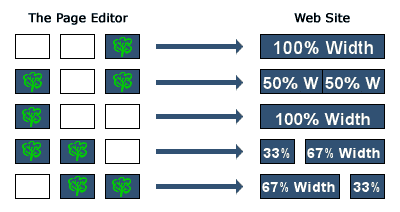 Hint on Sizes
The content area itself is "liquid", and will expand and contract as neccessary to meet your design specifications. However, in certain cases, images placed within the page editor will be contracted to fit into the dimensions of the 612px Page editor table. If an image that is larger than 612px in width is placed by itself on one of the Page Editor's content rows, the editor will shrink the image to fit within the 612px width. If the combined width of two images placed directly adjacent to each other in the Page Editor exceeds 612 pixels, one or both of them will be down-sized as necessary to fit. The behavior of this "shrinking" effect is represented in the image at the left.
The Page Editor scales images proportionally, meaning that image's height is reduced equally with its width.
---
DLS Web Design and Hosting PO Box 1686 Bainbridge, GA 39818 800-797-8496 229-400-3227